Whether you are an essential business, or a closed business looking forward to reopening, every business is trying to find the best way to keep its workplace clean and free of the coronavirus. That is why Janico offers COVID-19 cleaning and disinfection service while working through this crisis. We are all in this together and we look forward to getting back to business as safely as possible.
Here are some critical steps we take when cleaning for coronavirus to help keep your employees and customers safe:
If possible, wait 24 hours before cleaning. Waiting 24 hours is recommended for suspected and confirmed virus exposure areas per the CDC before a deep clean, but even if the virus has never been at your business (as far as you are aware) it's still a good precautionary step to take to help ensure your business is in the clear. Not every business can be empty for 24 hours but waiting 24 hours before a deep clean is ideal. If you manage an office building, office park, church, car dealership or any business that can be empty for 24 hours, and if it can be well ventilated in the meantime, you can ensure that the virus isn't lingering in the air before our staff comes into the building for a deep clean.
While the virus will dissipate from the air after 24 hours, it can remain on high touch surfaces like countertops and doorknobs for hours - and even days. It depends on the type of surface the microscopic droplets land on.
Clean before disinfecting. Before we start disinfecting, we do a general cleaning with all-purpose cleaner. Why? Cleaning all visibly dirty surfaces in your facilities to remove dust, grime and soils enables the disinfectant to achieve maximum effectiveness on surfaces.
Deep clean and disinfection. That means cleaning everything. We go beyond the important vacuuming and mopping of floors and throwing out trash.
Some of the typical areas or items in an office workspace we pay attention to, include:
Entryways/Exits - think about what you are touching walking into your business
All light switches and light switch plate covers
All handles: Doors, cabinets, restrooms, sinks, stair handrails, etc.
Telephone receivers, TV remotes, cashier registers
Refrigerator, both in and out (food may have been left in there for weeks while the business was closed)
All frequently used items in the kitchen, breakrooms, and restrooms
Tables, chairs, desks, from the lobby to the conference room
Those are just some of the areas cleaned. It is almost not possible to go overboard when doing a deep clean for the coronavirus.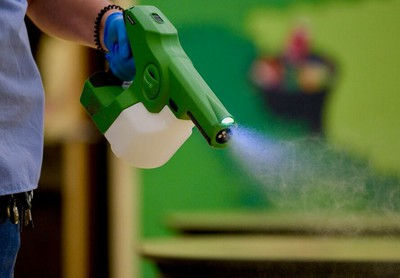 What is disinfectant fogging? The use of disinfectant 'foggers' is a developing trend in the fight against coronavirus. Several different technologies are available but all work by dispensing a fine mist of disinfectant solution, thereby applying an even coating of solution to all surfaces in the room, and in some cases disinfecting the air.
Currently, fogging (alone) does not meet the CDC guidelines for COVID-19 prevention protocol unless surfaces are first pre-cleaned. For the treatment of this specific virus, fogging should be considered an added step in a 2-step process to be effective. However, when used properly, fogging has a proven history within industrial settings and has many small business applications that will make it appealing to companies looking to reopen and protect staff and customers during the COVID-19 pandemic. Janico's deep cleaning service includes applying an EPA Registered disinfectant to surfaces using an electrostatic sprayer which places a positive charge on the disinfectant and sprayed at negatively charged surfaces (most surfaces are either negative or neutral) allowing for proper dwell time and more thorough coverage in addition to manually pre-cleaning surfaces to completely eradicate viruses and other germs.
Our disinfectant is EPA Registered. Janico Building Services uses hospital-grade disinfectants rated by the Environmental Protection Agency (EPA) and listed on EPA's List N: Disinfectants for Use Against SARS-CoV-2, the virus that causes COVID-19.
Here is the list of disinfectants that the EPA recommends. Ensuring we are utilizing one of these chemicals helps keep the virus from lingering in your building. There's a good chance using any other disinfectant will not kill COVID-19 or any other virus completely if not included in this extensive list.
Focus on areas with high traffic. While we clean everything as reasonably possible, our focus is on areas that have the most people. For instance, your entrances and exits. If you own a doctor's or dental practice, or a business with a daycare center, you probably have an area or areas where children play. Every toy, and every inch of that play area, will be disinfected. Other areas are your restrooms and kitchen areas, locations where people more frequently touch their face. Germs can rapidly spread in these areas, and so these are rooms that we absolutely perform a deep clean.
Electronics. Printers, scanners, copiers, paper shredders, laptops, computers, cash registers - they all collect dust, and they all are used often by employees. We touch them. We breathe on them. We mingle around them or pass them around. They need to be unplugged and then cleaned carefully; of course, since liquid and electronics do not mix well, but they do need to be thoroughly disinfected. Our technicians perform wiping with a cloth damp with disinfectant.
Replace Your Air Filters. The coronavirus is known to be transferred between the exchange of water droplets coughed or breathed into the air. Increased ventilation is thought to be important for facilities to limit the spread of potentially infected droplets. While you may be running your air systems more, make sure your air filter is new so the system is able to run at its full capacity.
Personal Protection Procedures. Ensuring our staff wear the correct personal protective equipment will not only protect them from potential infection but also limit any reintroduction of the virus during the disinfection. Strategically place hand sanitizing stations and disinfecting wipes for you and your employees to readily clean surfaces throughout the workday. You will also want to post hand-washing signs and restock with ample soap and towels. If not mandated by local governments, you also want to consider creating a mask policy for your business, and/or readily provide masks to your employees to help limit the possibility of virus spread between staff members and customers.
Clean Is Now A Necessity. In between your deep clean and when you reopen for business, you will want to limit your traffic to hopefully no visitors, to not introduce new germs after cleaning. You should partner with a reputable cleaning professional to clean and disinfect on a regular basis, to reduce the odds of transference in your facility and thus reduce the odds of your employees, customers, or clients from getting sick. Still, keep in mind that the next deep clean will be easier. Whether you are battling a virus or everyday germs, it is always easier to clean when you have already been maintaining a clean environment.
For even more information, you may want to check out the Centers for Disease Control and Prevention guidelines for cleaning facilities.